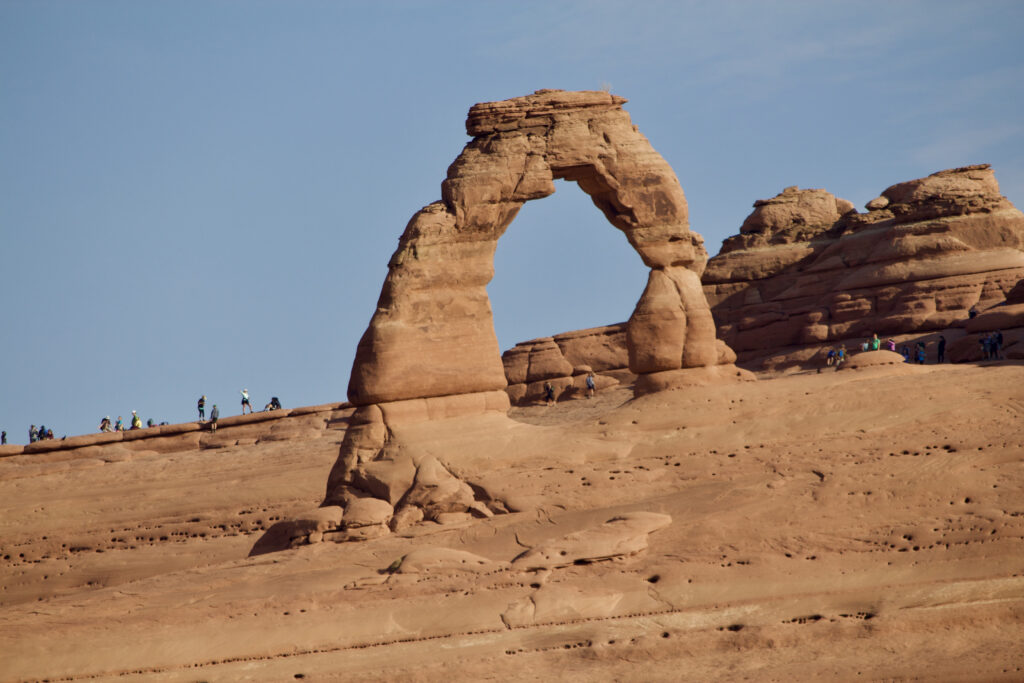 Notes
This is one of the better parks in the whole country.
You need 2 full days to properly visit the park. You could rush it in 1 day.
You should combine a visit to Arches NP with Canyonlands NP and Capitol Reef NP. For a 2-week itinerary driving through 7 National parks in Nevada, Arizona and Southeast Utah, see this page.
This is an extremely popular park. Try to visit on a weekday to avoid the big crowds.
On the day you visit, get into the park early. Parking indie the park is very limited. The Park rangers shut the park down around 9am when all parking lots inside the park are full – visitors are asked to come back in 3 hours.
Carry Lunch. There is no food inside the park.
Itinerary
Day 1
Lower Delicate Arch (5/5, Outstanding)

This is the iconic Arch seen on Utah vehicle license plates. Drive to Delicate Arch parking. Walk to the Delicate Arch and back. (3miles, 600feet, 2.5hrs). See Wolfe Ranch on the way back to the parking lot.
Get to the parking as early as you can. Once all the parking spots are taken, the Park rangers shut down the parking lot and ask you to return after 30mins.
This is not an easy hike. There is a 600feet elevation change, and the whole hike is exposed without any shade. But the payoff at the end is spectacular – viewing the Delicate Arch up close is a great payoff.

Lower Delicate Arch Viewpoint (5/5, Great View) – short uphill hike for great views of Delicate Arch from across the canyon. You can walk to the edge, further from the 'official' end of trail.
Salt Valley Overlook (30m) – eat packed lunch here in the parking lot. This is a great spot with great views and not many people go here.
Drive to Fiery Furnace Viewpoint (30m).
Skyline Arch – Drive to Skyline Arch Trailhead. Take a short walk to see Skyline Arch (45min).
Landscape Arch

Drive to Devil's Garden Trailhead.
Walk to Landscape Arch (2miles, 1.5hr)
See Navajo Arch, Partition Arch, Wall Arch – right by Landscape Arch.
On the way back to the parking lot, see Pine Tree Arch and Tunnel Arch.

Sand Dune Arch – Drive to Sand Dune Arch Trailhead. Short walk to Sand Dune Arch (30min)
Panorama Point (30m)
Arches NP Visitor Center.
See the Night Sky in Arches NP: Good spots are Balanced Rock Picnic Area, The Windows, Garden of Eden Viewpoint, Panorama Point.
[Sleep in Moab, Utah]
Day 2
Drive to Windows Trailhead

Hike Windows Loop and Turret Arch Trail (1.2miles, 150feet, 1hour) – Walk to Turret Arch, then North Window Arch, then South Window Arch, then walk around the formation to make a loop back to the Windows Trailhead.
Move car to the Double Arch Trailhead, or leave car at Windows Trailhead. Hike Double Arch Trail (0.6m, 100feet) – see Parade of Elephants along the way

Drive to Garden of Eden. Stop optional.
Balanced Rock (4/5, Good)
Petrified Dunes Viewpoint (quick stop)
Courthouse Towers (quick stop)

Check out The Organ
Check out The Three Gossips

La Sal Mountains Viewpoint (quick stop)
Park Avenue

Park at Park Avenue Trailhead
Hike Park Avenue Trail (5/5, Great Views)

(1.8miles, 300feet, 1hour) – the hike is downhill when hiking from Park Avenue Trailhead to Courthouse Tower Viewpoint, and uphill coming back to Park Avenue Trailhead.

Moab Fault Overlook (quick stop)
[Sleep in Moab, UT]